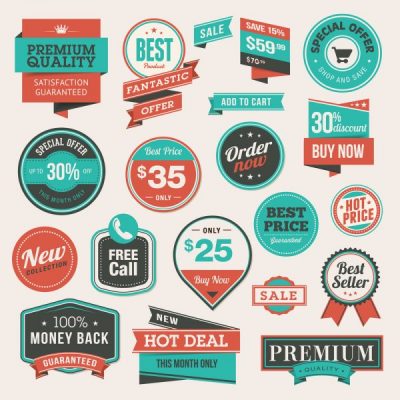 How Orlando Custom Sticker Printing Can Help Promote Your Business
If you're looking for a creative way to promote your services or products, Orlando custom sticker printing is a great option! You can get your business' name in front of customers at local shops, conferences, and other events.
What to Include in Your Sticker Design
Creating a custom sticker might seem complicated, but we're assuring you that it's not! Think of it as a creative business card. You can design stickers or decals in the shape of your logo, your product, or a special item that represents your business. For example, if you own an ice cream shop, a graphic of an ice cream cone with scoops of fun flavors, your business name, and your website would get right to the point with potential customers.
Depending on how much space you have on your sticker, we recommend including the most important information to get your message across to customers. This information might include your business name, Instagram handle, business address, phone number, website, and/or email address. We don't recommend including everything on your sticker, but include your top two to three items to make it short and sweet!
Fun and Memorable Stickers or Decals Spark Conversation
When you're considering Orlando custom sticker printing, think about who your potential customers are. If customers receive the stickers or decals directly – at conferences, local events, or shops – and love your sticker design or your business as a whole, then it's likely that they'll promote you in an organic way.
Customers commonly add stickers to items that inspire creativity, such as laptops, phone cases, notebooks, and guitar cases. When customers are at meetups, with friends, or networking settings and they take out an item covered in stickers – like your business sticker – that opens the conversation for people to inquire about where they found the sticker and ask about the business behind the sticker.
Partner With Businesses to Distribute Your Custom Stickers or Decals
You may have seen swag bags at conferences, local events, and promotional previews. These bags advertise sponsors with fun pens, notebooks, bottle openers, decals, and stickers. These items might be small, but they're mighty for promoting businesses! After printing your business stickers, you'll need to distribute them to companies and events that relate to your ideal customer. For example, as an ice cream shop owner, you might consider partnering with local businesses to display your stickers at a video game shop, a restaurant, or a coffee shop near the register.
You can also think about partnering with a local group, such as ice cream enthusiasts, foodies, and bloggers, to hand out your stickers at their gatherings. It's free promotion for your business in exchange for a fun keepsake. 
Free Estimate For Orlando Custom Sticker Printing
Ready to get started with customizing your business sticker design? Contact us today for your free quote! We're excited about this opportunity for you to promote your business. Let us know when you need your Orlando custom sticker printing. We'll be happy to work with you on completing your order by your deadline.